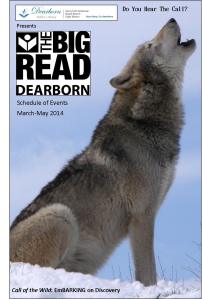 The kickoff for The Big Read Dearborn was terrific! I left The Henry Ford last Saturday feeling that I was very lucky to live in Dearborn. It truly is a community rich in resources and impressive human energy. Watching major institutions like the Dearborn Public Library, the Community Fund, the Education Foundation, the public schools, The Henry Ford and the University of Michigan come together to benefit the common good of the residents of this suburb is indeed gratifying and satisfying.
The Big Read is an express lane for fellowship. Happily, Dearborn is promoting an opportunity for everyone to become invested in the common ownership of experiencing a great novel, Jack London's The Call of the Wild.  Over the next ten weeks, The Big Read is bringing together resources teeming with activities and opportunities designed to serve our diverse population (whether by age, gender, race, ethnicity, national origin, socioeconomic status, physical abilities or religious affiliation). This phenomenon is anchored by the unifying notion of everyone in the community sharing one singular-common interest.
I hope all residents will seize this collective responsibility and make the reading of this short novel an easily realized goal.
A great-university, literature professor once declared that "story is the primary act of mind." Story is central to our lives. Each and everyday we interact with others by asking them about their day, and they respond with their personal stories. Published stories, with their vivid descriptions, allow us as readers to explore the world. They shape our values as we think about the dilemmas complex characters face. They illustrate ways to solve problems and help us understand human nature. Stories teach us to think about the mysteries and complexities of existence. Stories help us explore human values. They can even  socialize us as we discuss them with others. London's Call of the Wild illustrates the value of being able to adapt to change, that experience is a potent teacher and that survival can be exceedingly daunting. It also teaches how greed twists the human soul. Even though Call of the Wild is set during the Gold Rush, its thematic concerns are very much alive in America today.
At the kickoff event, Maryanne Bartles, director of the Dearborn Public Library, talked about the precipitous decline in numbers among those who engage in reading novels. It partly motivated the city's decision to go after a grant from the National Endowment for the Arts. Mayor O'Reilly acknowledged that in this digital age, reading novels can feel a bit out-of-date but that the virtues of doing so are still intact. Marilyn Zoidus, Director of Historical Resources at The Henry Ford, gave a succinct overview of how America's great fiction tells the story of this nation. Listening to Mike Moseley, from the Players Guild of Dearborn, read passages of the book in his sonorous baritone was a quick-return trip to childhood. Moseley captured the pleasures of listening to a loving parent or dedicated teacher reading aloud to engage children in the joys of fiction. Moseley did such a stellar job that he should consider a new career reading for audiobooks! Finally, Tom Varitek, Senior Program Manager-Program Operations at The Henry Ford, provided a delightful introduction to the screening of Charlie Chaplin's The Gold Rush, an hilarious but poignant, motion picture with its iconic "dance of the dinner rolls." To hear small children's laughter and a young child nearby declare, "Daddy, he's silly!" was a treat in and of itself. (Perhaps, The Henry Ford could begin to use its beautiful Anderson Theater for a film series of historic films!)

What was really great was how beautifully all these speakers' observations linked to cognitive science! Today, research into inner space, the mysteries of the human brain, is revealing how profoundly stories stimulate the brain and even change human behaviors. Not only do novels illuminate life, they instruct us how to negotiate the complexities of human social-and-emotional interactions. Novels can even achieve spiritual dimensions which can improve us as human beings!

Vivid detail, powerful metaphors and affecting interactions among characters haunt the human imagination. Consider this: the only way information enters our brains is through our senses. As we read descriptive passages, we now know that the sensory cortex activates in the brain.  As we read descriptions of physical exploits, the brain's motor cortex activates. Brain research is proving that the brain stimulates the same exact regions, whether we are reading about an exploit or actually experiencing it! So, in effect, reading is reality!

One cognitive psychologist argues that reading is actually a life simulator. He states that reading "runs on minds of readers, just as computer simulations run on computers." The same cognitive scientist claims that "individuals who frequently read fiction seem to be better able to understand other people, empathize with them and see the world from their perspective."  So, in effect, novels replicate life itself.

As far as any of us know, we only get one life on Planet Earth. Novels offer amazing opportunities to enter others' thoughts, feelings, longings, frustrations, motivations and interactions. When reading an especially good book, fully engaged readers may suffer a kind of loss at the end, as now-intimate characters depart.

Reading provides enormous wealth for the reader. Vicarious pleasures are there for anyone who opens a good book. All the leaders in Dearborn and all the worker bees behind the scenes who have brought The Big Read to fruition in Dearborn deserve our interest, support and thanks.

Visit the website at bigreaddearborn.org to learn more. There are an amazing number of events you won't want to miss over the next two months. The Big Read wraps up on Saturday, May 17, 2014.