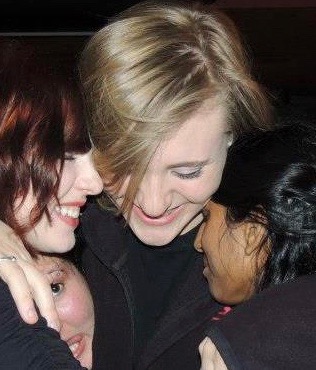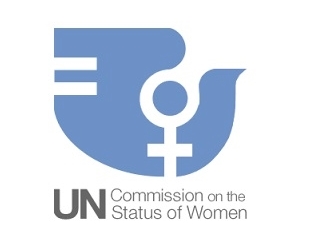 by Karen Monroe
Christ Episcopal Church of Dearborn  honored Victoria Bell, daughter of Dearborn Branch treasurer Carolyn Blackmore,  at a dinner where guests learned about Bell's opportunity to represent the church as part of a delegation to the United Nations this March 14-24, 2016. Bell, a life-long member of Christ Episcopal Church,  graduated from Dearborn High School in 2011. Her commitment to her faith followed her to University of Michigan where she became involved with Canterbury House, the Episcopal Student Center on campus. In 2015, she graduated from University of Michigan with dual degrees in Women's Studies and Asian Languages and Cultures with a concentration in Mandarin Chinese. She then spent time in China where her passion for understanding how cultural, spiritual, and intellectual beliefs impact women in society grew. She hopes to effect positive change for women by helping women gain empowerment and gender equality. As a member of the American Association of University Women (AAUW), Bell embraces the mission of advocacy, education, research and philanthropy.
In her last year at University of Michigan, Bell interned at Safe House Center while she wrote her thesis on violence against women and girls. She currently works as a Shelter Advocate and Case Manager, counseling and supporting survivors of domestic violence and sexual assault. She helps victims empower themselves as they work to ensure a safe, secure, and productive life that is free of violence.

Bell was selected, to be one-of-eighteen delegates representing the North American Episcopal Church, to the United Nations Commission on the Status of Women.  The Episcopalian organization is part of the Ecumenical Women at the United Nations, a non-governmental coalition that supports women across the world. Chaplain Reid Hamilton at Canterbury House encouraged Bell to apply, which included writing an essay of purpose and receiving a recommendation from Bishop Wendell Gibbs of the Episcopal Diocese of Michigan.
In 2015, the General Assembly at the UN adopted goals established by the United Nations Sustainable Development Goals committee. Seventeen areas were designated for improvement by the year 2030. The broader goals focus upon improving the standard of living, equality, climate change and peaceful resolution of conflict globally. The Domestic and Foreign Missionary Society of the Episcopal Church chose to support the goals both financially and through their concerted effort. Furthermore, through the Statement issued by the Church prior to the session, they have recognized the stand-alone Goal 5 on gender equality and empowerment as the one goal that impacts all the other goals. This year the UN focuses on global progress in women's empowerment and its impact on sustainable development, as well as the elimination and prevention of all forms of violence against women.

The Episcopal delegation will spend two weeks in New York. They have met via phone conferences to discuss issues, share experiences and set objectives. Upon arrival in New York, Bell will meet with her delegation to adopt items consistent with the United States Episcopal Church's stance on gender equality and empowerment. She will attend General Assembly sessions with her fellow delegates regarding these issues and review the advancement towards these goals among the 193 member nations. As a delegate, she will have an opportunity to lobby representatives of the member nations to discuss their progress and offer solutions. Lectures and workshops on topics impacting women's rights and equality will be offered for attendees.

When Bell returns to Michigan, she will speak about her experience at the Diocesan Convention and Ministry Fair. She also intends to plan a forum for discussion of women's issues at member churches throughout the area. Bell declares, "This year's review theme covering violence against women and girls is close to my heart in my personal and professional life. It is an incredible honor and a fabulous opportunity for learning, sharing and advocacy."
More information about the UN Commission on the Status of Women can be found at: http://www.unwomen.org/en/csw/csw60-2016