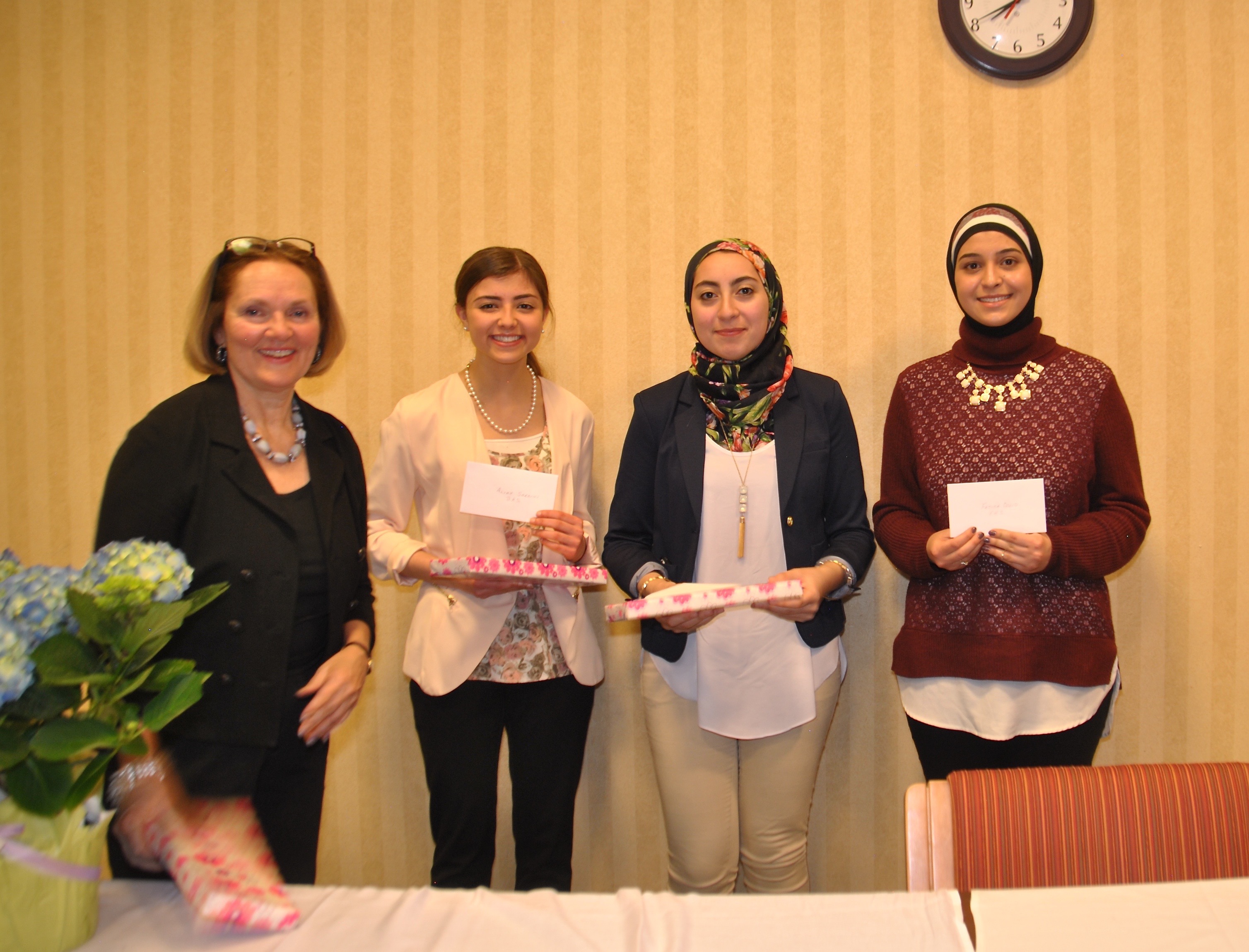 Today, Marge Powell resides alongside many other retirees at Henry Ford Village. With the passing of time, many in Dearborn may have forgotten what an extraordinary community leader she was and how many glass ceilings she shattered. Members of the Dearborn branch of the American Association of University Women are determined to see her legacy continue. So in 2011 the branch established an annual leadership award for seniors from each of the three public high schools in Dearborn. The sixth award ceremony occurred Tuesday evening, March 22, 2016, in the Mackinac Room at Henry Ford Village.
"Marge Powell exemplifies personal qualities that are important to successful leadership: compassion, patience, and courage. We are pleased to celebrate these qualities in future leaders," affirmed Valerie Murphy-Goodrich, President of AAUW-Dearborn. She explained to the audience that when she worked in human resources for the City of Dearborn, "Marge was my boss. At the time, she was a member of the Civil Service Commission. She was always judicious, impartial, fair and even courageous at times."
The three recipients, for 2016, are Aliah Sareini, Dearborn High School; Miriam Marini, Edsel Ford High School; and Fatima Obeid, Fordson High School.

Aliah Sareini serves as senior-class president at Dearborn High School after having participated in student council all four years of her high school career. In addition, she is member of the National Honor Society. She also serves as president of a club called Discover Islam. While enrolled at DHS she co-founded an organization called Gift of Education designed to provide tutoring and mentorship for youths in the community. She wants all, "kids to receive the extra 'push' they need to reach their fullest potential." On the board of the Dearborn Youth Affairs Commission, she serves as a voice for her school peers. The DYAC promotes unity among the three public high schools and strives to achieve positive changes in the city. Future plans include earning a degree in biochemistry from University of Michigan-Dearborn. She would like to conduct research on nutrition with its effects upon human anatomy. Ultimately, she would like to attend medical school at the University of Michigan. While always striving to better herself, she credits determination for her success. Aliah Sareini believes that everyone is an "exceptional human being with a purpose. We become successful when we live meaningful lives and serve those around us." Her goal is to make the world ultimately a better place. Aliah says she is, "honored and inspired by this award and I thank the women of the American Association of University Women-Dearborn for their hard work and dedication."
Miriam Marini is a member of National Honor Society and an Advanced Placement scholar at Edsel Ford High School. Key Club, Link Crew and Social Justice Club are organizations to which she has committed time and energy. Also, Miriam has been active in peer-tutoring programs where she has worked with both elementary and high school students. Link Crew is designed to assist students in making a successful adjustment from middle school to high school expectations. Miriam organized and ran several events including pep rallies, a tailgate party, and weekly small group meetings. Via the Social Justice Club, Miriam organized efforts to promote inclusion among the student population and to defeat negative stereotypes. She also implemented a Social Justice Course in the school by creating curriculum in conjunction with other officers and their advisor. In her sophomore year, she began working on the yearbook, rising to become editor-in-chief in both her junior and senior years. In that capacity she designed, edited and supervised the creation of the yearbook while working closely with the publishing company. She was a member of the field hockey team and was honored to be Coach's Award Winner for two years. In addition, she played varsity tennis. Title IX will serve her well in college! Miriam plans to attend Wayne State University where she will major in journalism or computer science and minor in women' s studies.
Fatima Obeid, from Fordson High School, has been a member of the National Honor Society, an AP scholar, on Key Club, Link Crew, co- founder and vice-president of the Joyful Heart Foundation. Community service has included volunteering at the VA Hospital, Oakwood Hospital and Gleaners Food Bank.  She also has served as a member of the Dearborn Youth Commission. Active in the peer tutoring program, Fatima has also been a mediator in the peer-mediation program. hopes. She plans to become a pediatrician.
Each Marge Powell Award honoree, all eighteen of them now, has demonstrated exceptional leadership potential, a commitment to service, and, above all, exemplary integrity over the four years spent in high school. This year's three winners have met these criteria and then some. Marge Powell declared, "No other award could mean more to me because this one recognizes students for their goals, their school activities and community service. It's really a citizenship award!"
The award is given in honor of member AAUW-Dearborn member, Marge Powell, who has served as an educational, political and civic leader in Dearborn for decades. The recipients of the award are selected each spring by staff members, principals and counselors who are asked to identify students who have demonstrated exemplary leadership and integrity. There is no application process. Each recipient receives a framed certificate and a stipend. Their names are added to the AAUW-Dearborn Marge Powell Leadership Award plaque on display in each school. Recipients are honored at an AAUW-Dearborn event.
Marge Powell spent thirty-five years breaking barriers for all women who live in our community as a leader in our branch as well as in our city. A brief overview of her contributions includes having been:
*President of the Dearborn PTA Council
*Elected to City Council as highest vote getter in 1977, the 1st woman in over 20 years at that time! 
*Mayoral candidate in 1985; Marge lost to Mike Guido by fewer than 100 votes 
*Candidate for State Representative in 1986 
*Member of UM-D Citizens-Advisory Council 
*Member of the Governor's Energy-Awareness-Advisory Committee in 1979 long before it was "cool" to be energy conscious. 
*Member of the Dearborn Civil-Service Commission 
*One of the first female members allowed to join Dearborn Rotary in 1988
Winner of numerous awards, including: 
o Ruth Heston Whipple Award (Mich. Fed. Of Business & Prof. Women) o Citizen of the Year (Metro Detroit Boys & Girls Club)
o Paul Harris Fellowship Award (Rotary Club)
o Inter-Service Club Council Person of the Year 
Oh yes, and in her spare time she has served as co-chair of AAUW-Dearborn's annual book sale and handled publicity for the branch.
Following the ceremony, some AAUW-Dearborn members shared woman-to-woman advice with the award recipients. Sarah Lebrell, branch secretary, cited the animated film, "Finding Nemo." Her sound advice was that when things get rough and tough, one should sing the lyric to Dory's signature song. "Just keep swimming." Valerie Murphy-Goodrich, branch president, said quietly and firmly, "Have the courage of your convictions." Ellen Judge-Gonzalez, program vice-president, ended the evening with an apt toast: "Here's to strong women. May we know them. May we be them. May we raise them."