In honor of the 80th anniversary of the Dearborn Branch, here is a list of 80 things AAUW members–at the national, state & Dearborn levels–have engaged in or lent support to recently, whether through advocacy, coalitions, donations, initiatives, lobbying (for or against) and actual participation.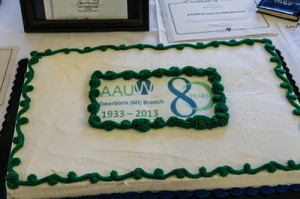 Advocacy
Alternatives for Girls
The Big Read
The blog on our website
THE September Book Sale
Bullying and cyberbullying
Campus Leadership to shape the lives of future women leaders.
Community Action Grants
The Community Fund in Dearborn, particularly with regard to the Midwest Sculpture Initiative
CEDAW — The U.N. Convention on the Elimination of All Forms of Discrimination Against Women
Dearborn Area Theatre Association's Random Acts of Theatre
Dearborn Community Arts Council
Dearborn Historical Museum & McFadden-Ross House & Best Dearborn Stories–Voices from Henry Ford's Hometown
Dearborn Symphony Orchestra and Dearborn Youth Symphony
Discrimination — Jimmy Carter declared recently, "I am convinced that discrimination against women and girls is one of the world's most serious, all-pervasive and largely ignored violations of basic human rights."
Educational Funding
Elect Her-Campus Women Win — UM-D has just been awarded a grant designed to expand the pipeline of women running for elected office in college and beyond.
Equal Pay Day, always in April
Equal Rights Amendment, still not passed
E-Student Affiliates at a host of colleges and universities
Feminism
Fender Bender entry to honor Alice Ramsey, the first woman to drive coast-to-coast
First Step, which serves victims of domestic & sexual violence
Federal Minimum Wage
Friendship — Female camaraderie lowers levels of stress hormones, particularly cortisol. It allows women to decompress and leads them to achieve more calm and equilibrium. It also increases lifespans!
Gender Equity in both education and the workplace
Get-Out-the-Vote Effort
Global Connections — We contribute to the economic and social development in countries where women endure acute and chronic needs.
Health and reproductive rights — Under health care reform, mammograms, cervical cancer screenings, prenatal care, flu shots and regular well-baby and well-child visits will be covered.
High School Data Transparency Act
Human Trafficking and its horrors
Kym Worthy, Wayne County Prosecutor, has her new Sexual Assault Response Unit, a giant step for victims.
International Day of the Girl Child celebrated each October 11
The International Violence Against Women Act places women at the center of U.S. foreign policy. The bill supports measures to prevent violence, protect survivors and bring perpetrators to justice. It helps prevent and respond to violence against women particularly during armed conflicts.
International Women of Courage Awards by the US State Department: "Women's issues are families' issues, they're economic issues, they're security issues, they're justice issues." — John Kerry, Secretary of State
League of Women Voters
Leadership — We provide development opportunities to our members.
LEGACY — our newsletter
Legal Advocacy –We challenge sex discrimination in higher education and the workplace.
Lily Ledbetter Fair Pay Act
Lobby Corp
The Marge Powell Leadership Awards
The Mayor's Arts Award
Michigan Women's Hall of Fame — The first Dearborn woman, Kay Cushman, was inducted this month for her participation in ConCon.
Miss Representation, the documentary
National Women's History Museum on the National Mall
NCCWSL — National Conference for College Women Student Leaders
Nineteen — the percentage of women in Congress
Oral History Project
Paycheck Fairness Act
Presidential Commission on the Status of Women
Philanthropy: 3.7 million dollars were awarded in fellowships and grants to support 245 women in academic pursuits in 2013 alone! Since 1888, AAUW has awarded nearly $100 million in fellowships, grants, and awards to more than 12,000 women from 130 countries.
Pockets of Perception, sculptural installation by high school students
Public Policy: We advocate to advance equity for women and girls.
Reproductive rights and responsibilities.
Research: We analyze gender equity issues in education and the workplace.
Rights in the workplace
Safety Net: The number of households living with $2 or less in income per-person, per-day includes nearly 3 million kids. More than twenty percent of households now live in extreme poverty in this land of the American Dream.
Sexism, THE social disease!
Sexual Assault in the Armed Services & the documentary film The Invisible War
Sexual Assault Awareness Month
Sexual Assault & Sexual Harassment Prevention
$mart-$tart Salary negotiation workshops at over 140 colleges including University of Michigan-Dearborn
SOAR at UM-D: Student Outreach and Academic Resources program
STEM Education — We help level the playing field for girls and women in science, technology, engineering and mathematics.
Student Debt — We're trying to make it easier for grads to pay back their one-trillion plus dollars of debt.
Supreme Court: There are now three women chief justices.
Speech Trek to help high school girls find their voices
Suffrage — We'll be showing Iron Jawed Angels at the Henry Ford Centennial Library next August.
Tech Trek
Title IX
Tribal Law and Order Act which aims to decrease violence against women in Native communities.
Two-Minute Activist whereby we shape political opinions
UM-D AAUW-Student Organization
Vista Maria which has been rebuilding lives since 1883
Violence Against Women Act — No one deserves to be beaten, raped, mutilated or sold into sexual slavery!
The Wage Gap — We now know it is projected to close in 2057!
Women's Equality Day
Women's History Month
Woman's Resource Center at UM-D
Not to mention a whole lot of vitality and zest!
Even though we've turned eighty, we still have much to do, much to change and much to accomplish! We hope you'll join us in our mission.