---
---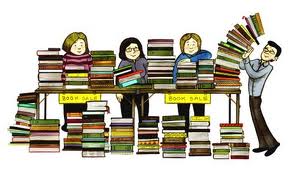 Announcing our first ever
June/Summertime Used Book Sale
Thousands of good quality used books sorted by category including: mystery, children's, cookbooks, home and garden, history, military, reference, fiction, media and more…
June 1

  noon until 7 pm                             

    June 2

   9 am-7 pm
Upstairs lobby of the Dearborn Ice Skating Center (DISC)
14900 Ford Rd   Dearborn, Mi 48126
Credit cards and cash accepted                   Bargain Prices                 
No preview                                                        Free entry
Current Donations 
Gently used books, vinyl, CD's , DVDs, and audio books,etc. may be donated in the lobby of the DISC( ice arena) at 14900 Ford Road Dearborn, 48126. We cannot accept encyclopedias or recent magazines. We prefer that college textbooks be recent,clean, and minimally marked. We are a non-profit organization, but do not have a 501c3 status and therefore cannot issue any tax donation receipts for book or other donations.
The Process
Members of AAUW-Dearborn work year-round at the DISC (ice arena on Ford Rd near Chase). Sorting takes place on Thursdays and Marking(packing) is on Tuesdays. Pricing may be done on either day. Both teams meet from 9:30 am. until 11:00 am. Court assigned community service workers move the boxes for us to and from an area under the bleachers. Both teams enjoy a lot of camaraderie. Opening a book donation box is like discovering a treasure chest. One never knows what will be inside!   
Volunteer Opportunities
Community service organizations and non-member volunteers are also welcome to assist with the Book Sale Teams as sorters,packers, or pricers. Adults are welcome to volunteer to help  with set up, during, and after the book sale. Especially needed are those interested in learning to price collectible, vintage/decor, and special editions and/ or developing online sales.  Contact us through our email or phone number listed below, if you'd like to help.
Who Benefits from the sale?
Profits from AAUW-Dearborn book sales help to support educational and community programs. The majority of the funds provide scholarships, workshops, and conference opportunities for students attending HFC and U of M-Dearborn.
Special Requests
Throughout the year non- profit organizations may requests books. All requests for books should be sent to the  email listed below. Those requesting books should be prepared to come to the DISC with boxes and transport for the books at an agreed upon date. This would include schools, hospital libraries,book drives,veteran's programs, and tutorial programs.
Book Sale #67 is currently scheduled
to begin on Thursday, September 27,2018!
Keep checking here for further updates!
Many Thanks for your interest and participation!
Book Sale Chairs 2018 Kathy Gapa and Diana Marx

 
 

Jan Frank, Treasurer , and Rosa Scaramucci, Past Chair