Participation is the KEY to Our Success !
Members are encouraged to attend all scheduled  branch activities and programs.  You may always invite a friend to be a guest and to come with you and learn more about our mission, commitment, camaraderie, and connections. All meetings and events will require  RSVPs of YES, No, or Maybe for attendance and meal reservation payments in advance.
____________________________________________________________________________
Wednesday, October 27, 2021 AAUW-D General Meeting and Program  7 pm. -8:15 pm                                                     Dearborn Historical Museum  Masks required
General Meeting Focus :  AAUW-National new Diversity  Initiative                                                Discussion- A Tribute to RBG and Diversity and Inclusion -President Judith Buck   Program:  Halloween Trivia and Treats Social (15-20 minutes after the meeting)
Wednesday, November 17,2021 AAUW-D General meeting and Program  7 pm.-8:15 pm                                                        Dearborn Historical Museum  Masks required.
General Meeting and Program Focus:  Paying It Forward                                                                  Community Outreach:  Anti-Human Trafficking- President Judith Buck                                               Guest Speakers from Vista Maria and local law enforcement.                                      Goodwill Offerings collected for Vista Maria's Anti-Human Trafficking Program (cash, checks to Vista Maria, Gift Cards to Target, Walmart, Amazon, etc.)
Friday, December 10, 2021 AAUW-D Holiday Luncheon  11:30 a.m.-1:30 pm.                                                                       The Dearborn Inn   Masks required.                                                                          More details to follow….

September -June 
First Tuesday of the month at 7:30 p.m.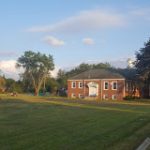 At the home of President Judith Buck                                                4 Woodbury St  Dearborn Mi 48120