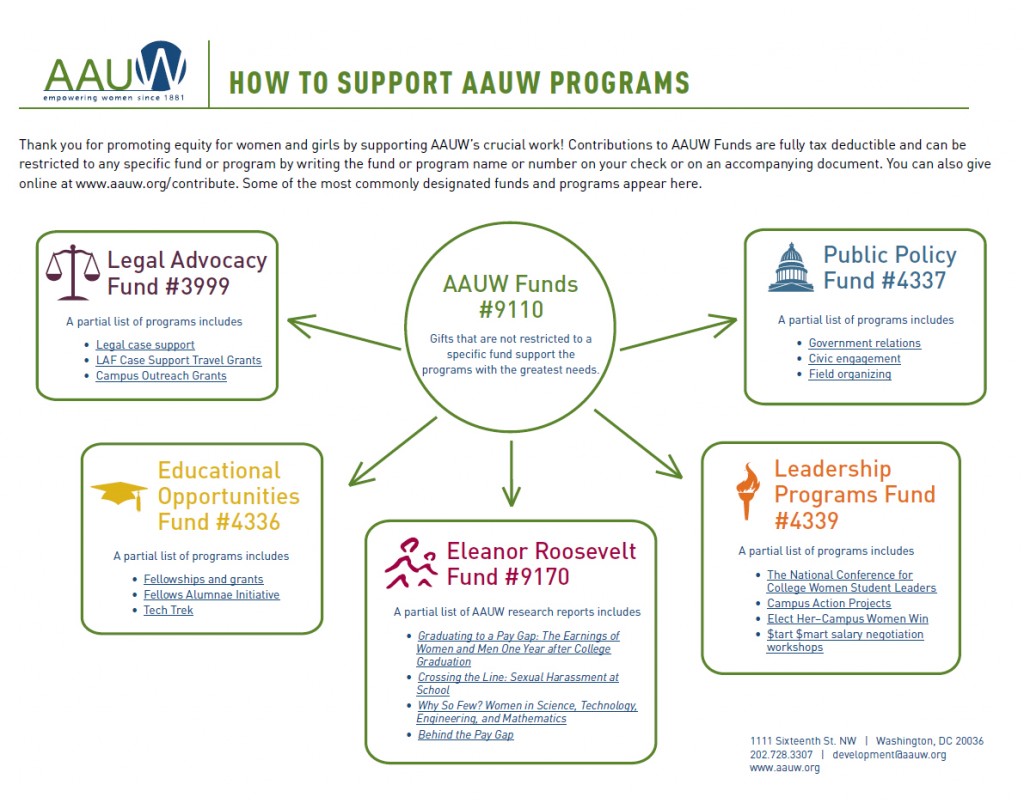 As the calendar year rushes toward a close, please consider giving to AAUW Funds in your personal philanthropic efforts. These monies help AAUW continue to fight for equity for women and girls.
AAUW Funds  #9110 support programs with the greatest needs.
Legal Advocacy Fund  #3999 protects the rights of those facing sex discrimination.
Educational Opportunities Fund  #4336 supports education for women through graduate fellowships, grants and undergraduate scholarships.
Eleanor Roosevelt Fund  #9170 provides research analysis to supply data and information about issues that impact the lives of women and girls.
Leadership Programs Fund  #4339 supports programs that develop women's leadership potential in schools, communities and country.
Public Policy Fund  #4337 works to pass laws and policies that are fair and equitable.
Since AAUW is a 501(c) (3) organization, contributions are tax deductible for federal income tax purposes.
AAUW has a distinguished history of advancing educational and professional opportunities for women in the United States and around the globe.  Our national organization provided more than $3.7 million for more than 245 grants and fellowships to outstanding women and non-profit organizations for the 2013-14 year.
Resources on the national website are very helpful.  Also, ready to answer your questions is Mickey Edell, AAUW of Michigan Funds Director. She can be reached at <mousemick@att.net>  .